Our wedding service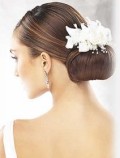 Wedding hair styling
Hair styling is always important to the way you look and feel. The right hair-do can make all the difference and the perfect color or the right cut and style can add elegance to your look on the big day. Everyone notices hairstyles and any wedding is, of course, a serious hair event.
With you, we plan ahead of your wedding to ensure that you have a hairstyle perfect for your headpiece, hair length and thickness and the shape of your face. We will help you find the right hair-do and give you expert help to choose how you'll wear your hair on your big day. Take your time. Choosing a hairstyle is a big decision and you will want it to be perfect for your face and personality. We recommend a trial run as soon as you have selected your dress, accessories and any headpiece.
The cost for wedding hair styling is dependent on the complexity of the style and will be costed after pre-planning has been completed.
Wedding make-up
There's probably no other day in your life when you will be photographed more than on your wedding day. Both formal and unposed, these are photos you will treasure for years to come. We will make sure you look great in every single one.
When you have found the perfect dress, shoes and jewelry, we can then plan your makeup and do some experimenting before the day of the wedding. We will enhance your features to highlight your own natural beauty, using enough make-up to emphasize your best features whilst keeping your natural look.