Welcome to our hair and beauty centre located in beautiful Doubtless Bay in Northland New Zealand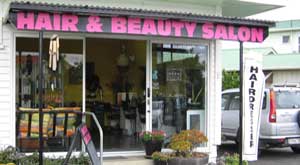 Whether you are a resident, or a visitor to the far north of New Zealand, come in and enjoy the services of Cara Lilly and her friendly professional team.
Our hair and beauty salon at Coopers Beach Shopping Centre has been in existence for more than 20 years. We specialise in acrylic and shellac nails and bridal and wedding hair styling and make-up.
Having trained with the previous owner, Cara took over the salon in September 2006. Her aim is to provide each client with an exceptional and professional service.
All staff receive continuing professional development and training to ensure that you receive the most up-to-date services available.
Our salon can meet all of your hair and beauty requirements - we look forward to welcoming you to our hair and beauty centre!
---
We are open:
Mondays to Fridays: 9 a.m. to 5 p.m.
Late nights and Saturdays by appointment
---
Where we are:
We are located at Coopers Beach Shopping Centre,
on State Highway 10, in the heart of Coopers Beach,
Northland New Zealand.